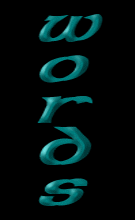 Tolkien Online
March 7, 2001

The Filmarillion
Whistler

Great were the wonders of the Golden Age!

For the people, in those days, purchased for themselves Seeing-Boxes, filled with light; and from within that light the Wise Ones spake unto them, and gave them counsel. And Uncle Miltie spake; and Lucy, who is called the Red-Haired, and also Amos and Andy, who are called the Politically Incorrect and are named now only in the whispers of the Ancient Ones.

And that age passed; and the people settled for a while in the Land of Mayberry, and they said unto themselves, 'Shall not another Wise One come? For wherewith now shall we be entertained?' And some of them departed unto Beverly Hills, and joined themselves to the tribe that is called the Hillbillies; and some came unto the House of Samantha, who is called the Nose-Twitcher, and there waited.

And in that time, as if in answer to the cry of the people, came Roddenberry, son of Roddenberry. And from the mind and will of Roddenberry sprang forth the Federation, and the Federation of Roddenberry begat the Trekkies, who are called among themselves the Trekkers, and among others the Geeks. And the people were glad of the Federation, and of its heroes. And among these were Spock, the Almost-Elven, and Kirk the Overdone, from whom sprang Picard of the Shining Head, and likewise the valiant ones of sundry spinoffs.