The Dominion
August 7, 2001

Film Maker Returns to His Roots
Staff Reporter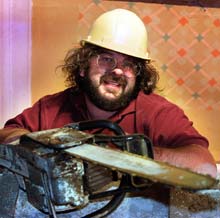 Wellington film maker Peter Jackson returned to his roots when he launched the refurbishment of the city's Embassy Theatre ahead of the New Zealand premiere of his latest work, Lord of the Rings.

In scenes reminiscent of Bad Taste, an early Jackson splatter movie filmed on the coast north of Wellington, the director got behind a chainsaw and made the first cut to the interior of the historic cinema.

The theatre, built in 1924, is being overhauled to restore it to its original glory ahead of the New Zealand release of Rings. The $700,000 project is being funded through an interest-free loan from the Wellington City Council.

The theatre is calling on members of the public to help with the restoration by providing images or photographs of the cinema in its early days to help with the renovations. Pictures of the entrance, the ticket box and downstairs and upstairs lobbies are most urgently needed.

The theatre will be closed till August 9 while some of the major restructuring takes place, but will be open as normal after that, though the job will not be completed till early December.

The first part of the Rings trilogy is set to show in Wellington just before Christmas.

In Bad Taste, Jackson played an eccentric Beatles fan who helped defeat an invasion of aliens wanting to use humans as meat for an inter-galactic chain of fast food outlets. The film ended with him stowing away on their space craft, and destroying the head alien with a chainsaw.